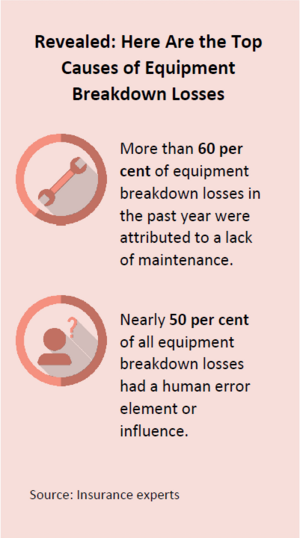 As organisations across industry lines continue to utilise more technology and machinery in their daily business operations, any instance of equipment breakdown can carry serious consequences. In fact, recent research revealed that equipment breakdown incidents were responsible for nearly 30 per cent of all property-related losses this past year.
Think your organisation wouldn't be impacted by an equipment breakdown incident? Think again. Have a look at some of the most common and costly forms of equipment breakdowns:
Electrical systems — Electrical systems make up 10 to 15 per cent of a building's worth and predicate all other business functions. Even a short-circuit failure can spread and cause substantial loss.
Communication and security equipment — Outages can affect computers, phone systems, CCTV systems and fire alarm systems. Further, an internet outage can affect the functionality of your website and prevent access to crucial data or web services.
Mechanical systems — On-site machinery (e.g. water pumps, ventilation systems, lifts, motors or engines) can break down as a result of vibration, metal fatigue, misalignment or human error. Such equipment is often critical to key business operations.
Consider this guidance to help prevent a costly equipment breakdown incident in your organisation:
Conduct regular inspections and maintenance — Equipment inspections and maintenance should occur when equipment is installed, moved or reinstalled; after any accident or malfunction; and at predetermined intervals. During equipment inspections and maintenance, be sure to utilise resources such as the manufacturer or supplier handbook, HSE guidelines and professional assistance.
Train your employees — Only allow trusted, competent and qualified staff to use equipment on-site. In addition, implement routine employee training to ensure proper equipment usage.
Purchase proper cover — More than anything, you need equipment breakdown insurance to ensure ultimate protection in the event of an equipment incident.
For more information, contact Verlingue today.
---
The content of this Profile is of general interest and is not intended to apply to specific circumstances. It does not purport to be a comprehensive analysis of all matters relevant to its subject matter. The content should not, therefore, be regarded as constituting legal advice and not be relied upon as such. In relation to any particular problem which they may have, readers are advised to seek specific advice. Further, the law may have changed since first publication and the reader is cautioned accordingly. © 2020 Zywave, Inc. All rights reserved.