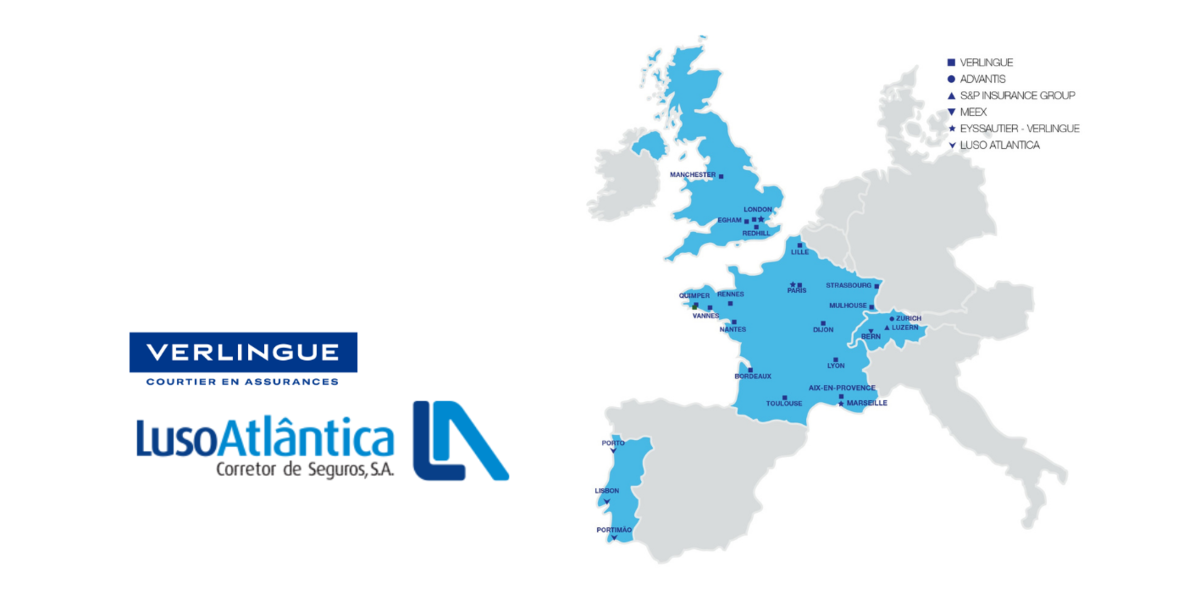 5th international acquisition in 5 years
Portugal: 3rd European country in which Verlingue has set up operations after the UK and Switzerland
Luso Atlantica: 5th largest Portuguese insurance broker with a turnover of €12 million and more than 100 employees

Verlingue, the insurance brokerage subsidiary of the Adelaïde Group, announces the acquisition of Portugal's 5th largest insurance broker, Luso Atlantica. The acquisition will be effective upon administrative approval by the Portuguese regulator.
With this new acquisition by its subsidiary Verlingue, the Adelaïde Group is continuing to carry out its strategic plan, announced at the end of 2018, with a view to accelerating its international development and establishing itself as a major, family-owned, independent insurance brokerage group in the European market.
Luso Atlantica has based its development on the same criteria and values as Verlingue, focusing on high-quality expertise in consultancy and client satisfaction.
With 3 offices (Lisbon, Porto, Portimão) and more than 100 employees, Luso Atlantica is a major player in the business protection and risk management sector in Portugal. The company manages an insurance portfolio of €100 million has a turnover of €12 million.
Luso Atlantica's Board of Directors and management will continue to look after the day-to-day executive management of the company, working closely with Verlingue's teams to pool their strengths and develop synergies for the benefit of their clients and employees.
Luso Atlantica is Verlingue's 5th international acquisition in 5 years. The company is already present in the UK (under the Verlingue brand) and Switzerland (under the Advantis, S&P, Meex brands).
The Adelaïde Group is also already present in Portugal through its subsidiary Génération, a broker specialising in the management of life insurance and healthcare expenses, which employs more than 250 people.
Gilles Bénéplanc, Managing Director of Verlingue and Adélaïde says: "This acquisition is in line with our Group's strategic plan, driven by Jacques Verlingue, Chairman of the Adelaïde Group, and demonstrates our international ambitions. With Luso Atlantica, Verlingue will become one of the top five insurance brokers in a country that has a highly dynamic market in Europe. Pooling our strengths and skills is great news for our clients and partners, and for all our employees."
José Félix Morgado, Chairman of the Board of Directors of Luso Atlantica:"We want to provide a long-term response to the new market challenges in terms of client experience. Joining an independent, European insurance broker as ambitious as Verlingue is a great opportunity our clients and employees. We're excited about working with Verlingue's teams to continue our development and become a leading broker in our markets."
Benjamin Verlingue, Director of Verlingue's International Subsidiaries: "Our international success is based on the strong local management teams in each country. With the acquisition of Luso Atlantica, we are integrating a committed team of experts into the group who will actively contribute to our goal of becoming a major player in Europe."